UPPER ECHELON ACADEMY OFFERS UNPARALLELED PERSONALIZED TUTORING IN WELLINGTON
Wellington, FL – November 4, 2013 – Upper Echelon Academy is a private, one-on-one tutoring service that delivers exceptional results. We understand the difficult balance required for a student to excel in both the classroom and the show ring. We forge relationships not only with our students' schools, but also with their trainers, so we can effectively manage their time and organize schedules, facilitating distinction in both endeavors.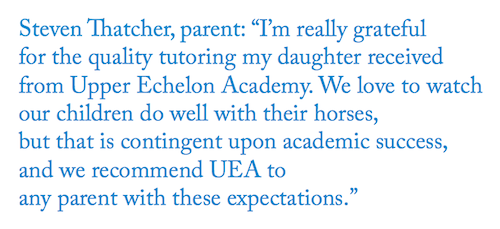 Our flexibility permits clients to receive quality instruction at any time of the day, at the location of their choice. Our established rapport with schools throughout North America enables us to provide assurance of a seamless transition for those traveling for competitions, especially to Wellington for the Winter Equestrian Festival. Our qualified administration and dedicated management team have considerable experience in developing curriculum, and our passionate and knowledgeable team of tutors provides specialized instruction for any grade level in any subject area, including standardized testing and foreign languages.
Upper Echelon Academy's priority is exceeding the expectations of each client. Our flexibility allows for tutoring to be a personalized experience that is reasonably priced and available at every major horse show.
Testimonials:

Missy Clark, trainer: "The tutors at Upper Echelon Academy give our riders the best academic support without asking them to miss lessons or shows. They communicate with us so we can all be on the same page, and our riders can focus when it's game time."
Tori Arute, student: "Going to shows is so much more enjoyable when I don't have to worry about falling behind in school. Working with the tutors at UEA is so great because they keep schoolwork interesting and help me manage my time so that I can remain dedicated to my riding."
Emily Smith, trainer and parent: "With Upper Echelon Academy, the kids can truly have it all. They receive top-of-the-line tutoring while working their hardest at the barn. There are no more sacrifices, only hard work that pays off and helps the kids be great in both school and the show ring."
Steven Thatcher, parent: "I'm really grateful for the quality tutoring my daughter received from Upper Echelon Academy. We love to watch our children do well with their horses, but that is contingent upon academic success, and we recommend UEA to any parent with these expectations."
About Upper Echelon Academy
Upper Echelon Academy is founded on the premise that equestrians require unique scholastic support to excel academically without compromising riding schedules. We work with trainers, around competitions, toward the academic goals specific to each student. Our promise is to provide charismatic, engaging, and highly educated tutors that will maximize each student's potential in the classroom, without sacrificing show ring performance. To discuss your student's education, please contact us at 561-331-4121 or visit www.upperechelonacademy.com for more information.